Woman, Divine Woman
Woman, Divine Woman
Femme, Divine Femme • Mujer, Divina Mujer
32" x 40" - oil pastels with a hand-carved texture
Available in Limited Edition Prints​
The body of a woman is a world map all onto itself. A tangible realm that we are privileged to witness, cherish and celebrate.
Forget coordinates, latitude, altitude, time or space. A woman's body is the one vortex where beauty, harmony and divine design converge to create an amazing symphony that excites the senses, stirs the soul and triggers, as it does in my case, an abundance of inspiration and creativity.
I feel compelled to celebrate God's creations and Mother Nature's designs.
This painting illustrates the physical and metaphysical manifestation of serenity, acceptance, Love, pain and hardship, Joy, colors, lines and Aliveness all bundled into an exquisite map that contains majestic landscapes, valleys and prairies, oceans and springs, dunes and entire continents and perhaps all the imaginable uncharted territories that are yet to be explored and fully understood.
​
​
Life is Full of Possibilities, and so is Paris
Life is Full of Possibilities, and so is Paris
La Vie est Pleine de Possibilités, tout comme Paris
32" x 40" - oil pastels with a hand-carved texture
SOLD - Private Collection, Ventura, CA, USA
​Available in Limited Edition Prints
The year 2000 was an exceptional season. Not only did it signal the end of a millennium for most linear-time-conscious minds, but it was also the year when a local art gallery in Paris (located two blocks from Notre Dame) invited me to exhibit my artwork. What a privilege and an indescribable thrill !!
Two months later, the very prestigious Society of French Artists, based in Paris, invited me to exhibit my artwork at an annual art group show located just a stone-throw away from the Eiffel Tower. I was also fortunate enough to enroll in an art academy. For several months during the Fall of 2000, I learned a few techniques on engraving, etching and printmaking at the academy. Paris is a magical city and a huge source of inspiration for the senses, the heart and the spirit. It is a place that embodies the legacy of amazing creations, history and tradition. Paris is the quintessential bridge that connects my reverence and passion for art-making with the lives and times, trials and tribulations of some of my favorite painters and sculptors that ever lived.
The monumental opportunity to live, study, and exhibit my artwork in Paris proved to be an a-m-a-z-i-n-g experience. Life in Paris contributed to the on-going incubation of a giant cocoon within my heart filled with creativity and imagination. Paris was and continues to be a very special dream come true; This particular journey and time there generated innumerable ideas, unforgettable experiences, lifelong friendships and several paintings like this one
​
Hungry to Create
Hungry to Create • Affame de Créer
20" x 32" - oil pastels with a hand-carved texture
​Available in Limited Edition Prints​
The process of creation is a fascinating experience. It's difficult to say how it all starts. Sometimes ones desire or need to express and manifest is so overwhelming that inspiration kicks in and so many things converge all at once.
I am no creator, but I am privileged to say and feel that I am part of a wonderful process called creation. Human beings are, in my opinion, the ultimate creation. I celebrate this uniqueness about us. That which gives us the distinction to be inspired to create and to imagine so many possibilities.
If you think about it, anything that our hearts and minds can imagine, can be manifested in one way or another. It is such a powerful ability and quite a gift. This painting is about the fundamental need that an artist always has to express, to share and to believe in endless possibilities.
​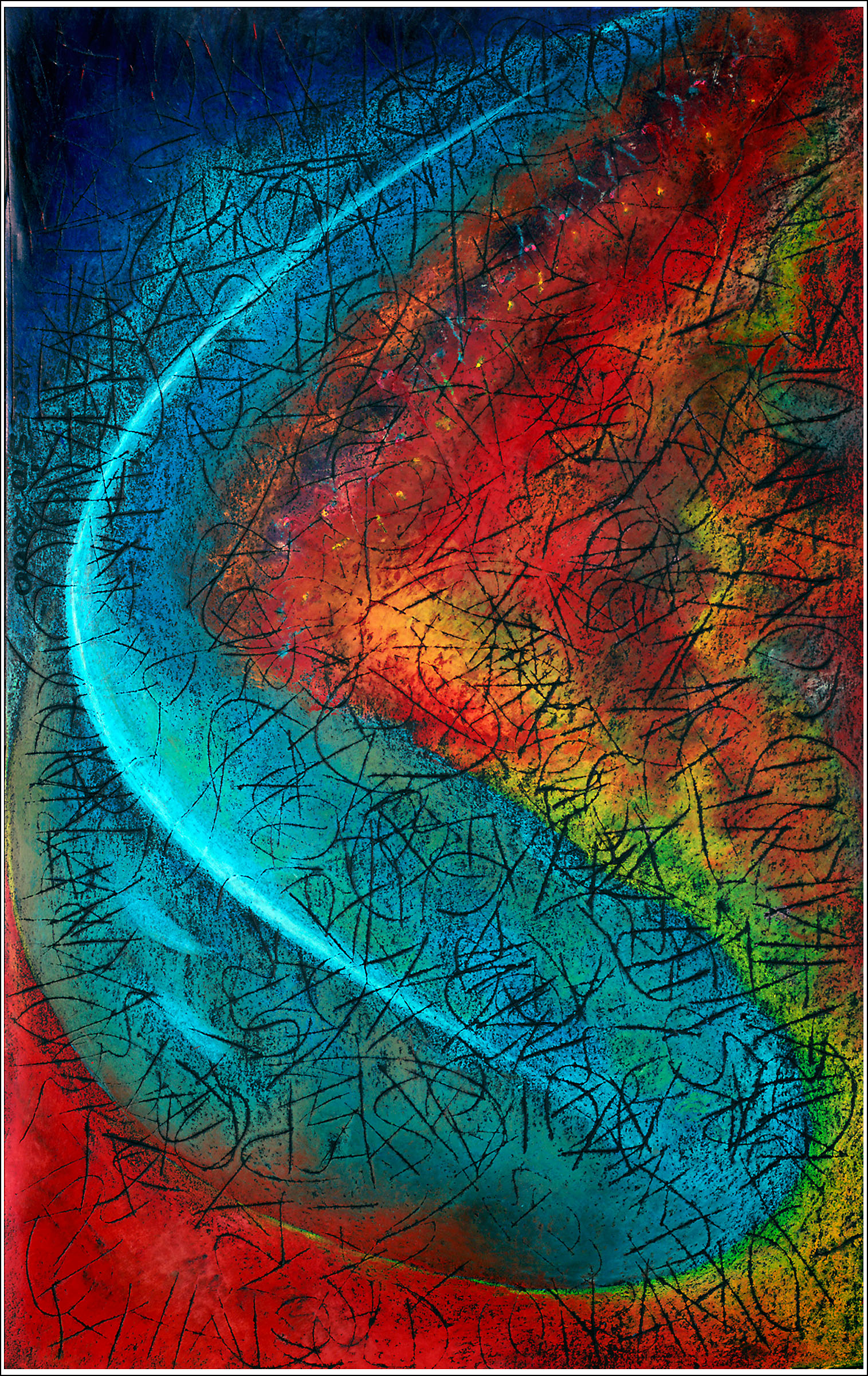 Profoundly Alive
Profoundly Alive • Profondément Vivant
20" x 32" - oil pastels with a hand-carved texture
SOLD - Private Collection, Los Angeles, USA
​Available in Limited Edition Prints
​"Reminder: LIFE is NOT a Rehearsal". I clearly remember how unprepared I felt after reading this truism. This LIFE IS, in fact, the REAL thing; and NOT a rehearsal. So often, we take for granted what LIFE has to offer us. We must realize our potential and explore our capabilities within THIS LIFE and NOW.
I believe that we are LIFE being aware of itself. LIFE is omnipresent. We swim in LIFE and drink of it, and we watch it passing by. Indeed, possessing the gift of LIFE is a monumental privilege. Regardless of our choices, our motivations, or the fruits of our efforts and beliefs, we have been given a fantastic opportunity to BE, become, and transcend; to share our awareness of such an experience during our brief but precious encounter in space-time existence.
Simply stated, the continuity that pervades LIFE is both an amazing and overwhelming experience to process and digest. We are all so very unwittingly interconnected with one another; we are connected to every little thing in existence, be it living or not.
This painting was especially nourished and inspired by the Love and appreciation that I feel for my brother Harold, and for LIFE itself. Harold is one of my biggest heroes; I am so proud to be his younger sibling and good buddy. Here, I have created the feeling of movement and depth, by careful manipulation of light and dark tones, to portray a noble sperm cell swimming deeply through an ocean rife with color while an infinite web of "Living Matter" floats by.
In the infinite cycle of this magical journey, it seems that, time and again, we always return to our metaphysical birthplace - right back to the very birthplace of LIFE itself.
​
Memories of You
Memories of You
Souvenirs (de toi) • Te Recuerdo
20" x 32" - oil pastels with a hand-carved texture
​Available in Limited Edition Prints
How lucky we are to have the gift of memory, of remembrance of things past and experiences lived or missed. I am not aware of any other living creatures on this planet who are equally endowed with the ability not only to remember, but equally to associate past events with the ongoing flow of life, with their probable consequences in the future, and to draw important and meaningful information about how we do things, the decisions we make and what behavior or attitude we assume before, during and after said experiences.
This painting is inspired by the spiritual, mental and emotional presence that a person is capable of creating and the indelible marks or scars left in our lives by that person. Human beings are always looking to be in the company of someone - at least I think so - because we need to feel accepted, validated, recognized and loved. Throughout our lives, people come in and out of our paths and as a result, great and not-so-great experiences are mutually shared and recorded permanently in our field of awareness.
It is those encounters and relationships experienced between two people that this painting celebrates. I believe that regardless of how difficult or painful past relationships may have been, we are always learning and enriching ourselves and our separate and/or joint lives by way of all the opportunities that come about when we interact with one another.
This is also true and greatly enhanced when we experience the exact opposite - that is joy, harmony, respect, love, etc. It is then when we also learn and grow into oneness and loving communion with our loved ones or a significant other.
What is triggered then are memories, the emotional heart is awakened and the nostalgia-filled section of our brain is activated to recall a specific person and/or an event that emerges from our "stored files" in our system and, within fractions of a second, we are flooded and bombarded with relived sensations, colors, aromas, words said and unsaid, and everything else that we choose to remember. And that which we never truly forget.
​
Breakthrough
Breakthrough • Percée
20" x 32" - oil pastels with a hand-carved texture
​Available in Limited Edition Prints
Most aspects of life are, inherently, a process. An ongoing experience of the known and the unknown. It is perhaps a carefully orchestrated clashing of microcosms within macrocosms. To me, the purpose of life is a life of purpose. It seems as if every time we start believing in something and set out to do it, to accomplish it or to fulfill a thousand dreams, the universe generously becomes a silent accomplice opening the way for us to aim further and higher, to always persevere and to put to the test our will, our faith and our vision.
This painting tells of the outer and inner realms through which our dreams and desires pass and evolve. Both, the hand-carved texture and the light seen here work together to create an optical effect filled with movement, depth of color and space, visual intensity and a touch of mystery.
​
​
Alone and in the Nude
Alone and in the Nude • Seule et Nue
20" x 32" - oil pastels with a hand-carved texture
SOLD - Private Collection, Paris, France
Available in Limited Edition Prints​
There are times, when I paint, that I am very eager to simply play and experiment with colors. Just colors and nothing else. And almost always two colors simply show up in my brain and insist on being part of my conversation with the creative process. These colors manifest themselves and dominate my thoughts, triggering the desire to create, to be playful and to explore the realms of imagination.
Such is the case with this painting. There are two predominant colors that I used to establish the foundational layer which in turn, gives life to other complimentary colors. A few years ago, I met a girl from Italy who loves to dance alone while completely naked. She feels happiest and most free when dancing with herself and in the nude. So here, there appears a female figure in the background, behind the bamboo shoots with her head thrown back and gracefully aware of her nude body and her own solitude.
This image is a tribute to both, the states of mind and body that bring so much joy into our lives when we can allow ourselves to simply "be," and to a beautiful Italian girl who inspired me to use color and movement to celebrate a fun and wonderfully liberating memory.
​
The Blue Door at the Mission
The Blue Door at the Mission
La Porte Bleue de la Mission
32" x 40" - oil pastels with a hand-carved texture
Available in Limited Edition Prints​
Our planet is our church, our temple.
The ideal place, in my humble opinion and with all due respect to tradition and organized religion, to worship and carry out a very intimate, personal conversation with God is where one is, wherever one happens to be at, under whatever circumstances one may be, regardless of the location, surroundings or whether they are appropriate or not.
This painting speaks of the divine presence that exists everywhere, inside and outside of ourselves regardless of where, when or whether or not we choose to acknowledge it. This is a reminder that Light (what I also refer to as the "divine source") is constantly manifesting all over and around us. It filters through and travels in every known and imagined dimension. I believe that our planet, our world, provides us with the perfect stage to acknowledge and celebrate the presence of the divine.
I have used the Santa Barbara Mission as a model and reference to create this painting. Most established or institutionalized religions dictate that prayer, worship and spiritual communication with God or the corresponding deity, must be carried out and performed in certain places, structures or buildings where people usually congregate to do so. What I hope to accomplish here is to show that this "Light" reveals itself in all space-time realms, is infinitely present and requires no rituals, offerings, promises or pacts from any of us to enter our awareness.
​
​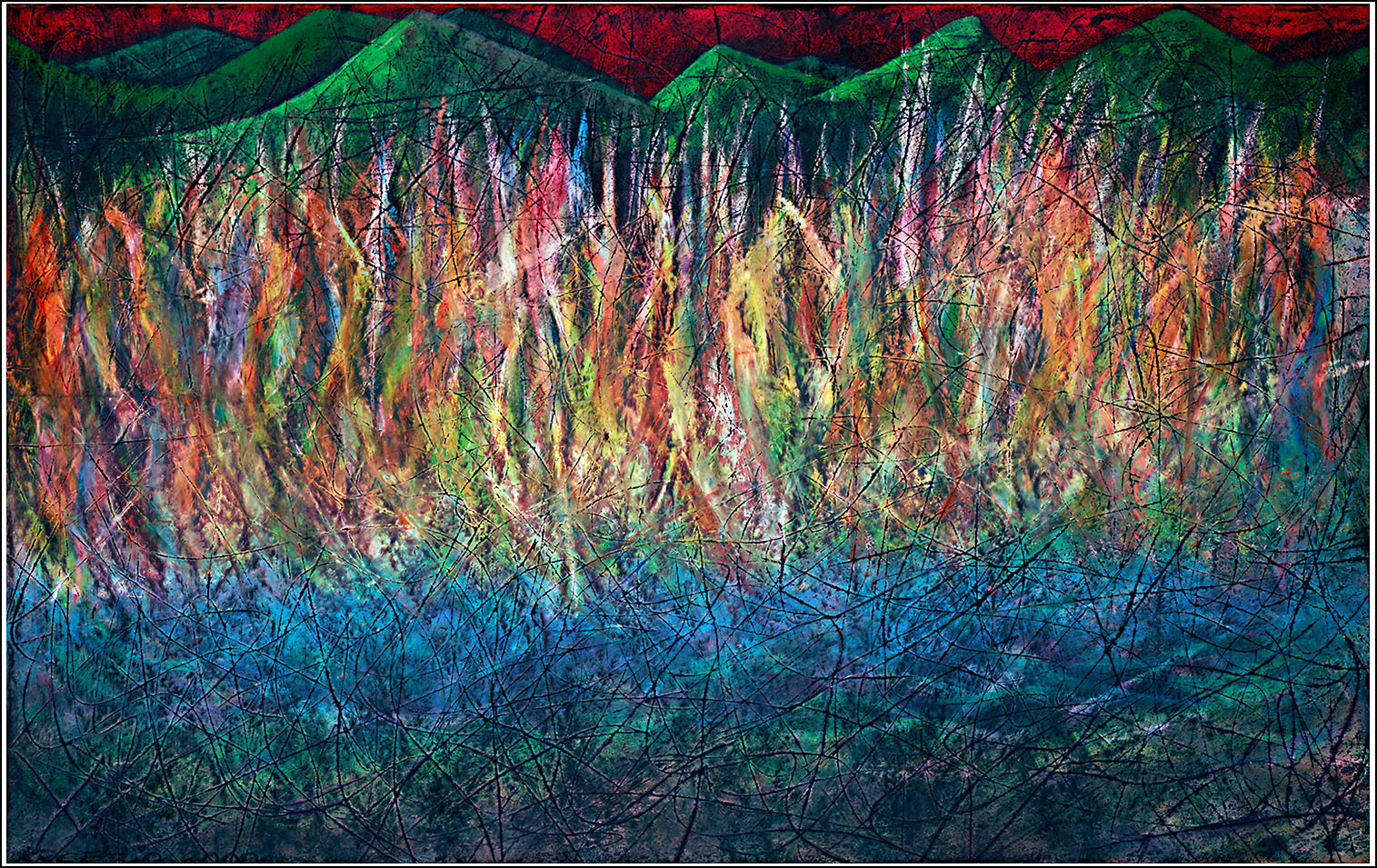 Serenity of the Sails
Serenity of the Sails
La Sérénité des Voiles
32" x 20" - oil pastels with a hand-carved texture
Available in Limited Edition Prints​
​
La Busqueda
The Search
La Busqueda • La Quête
32" x 20" - oil pastels with a hand-carved texture
Available in Limited Edition Prints​
​
Neurons in their Juice
Neurons in their Juice • Neurones dans leur Jus
32" x 20" - oil pastels with a hand-carved texture
​Available in Limited Edition Prints
​
On the Road to Paris
These are gallery pieces inspired by an artistic sojourn to Paris, France where I studied art.
"Happiness is when what you think, what you say, and what you do are in harmony."​
-- Mahatma Gandhi (1869-1948)​
All Arte Divino Studio & Ateliér Master Works are Available in Limited Edition Giclée Prints. Contact us to order one today or inquire about owning an Original Master Work from Mauricio ARCESIO.
All images © 1996-2013 Mauricio Arcesio | Artedivino.com​ | All rights reserved. No usage is granted without permission
​